Take control of your Sourcing and Procurement Projects
Centrally coordinate all your competitive bidding requests, project communications, and collect all proposals in one place.
Our mission is to empower your procurement team. We made our professional-level project management tool available to all users at no cost.
(No payment info required)

Power RFP was created by Procurement Professionals for the Procurement Community.
Easily integrate into your existing procurement practice, Power RFP empowers your team to streamline your projects and see results immediately.

Stay Organized and Coordinated
Take full control of competitive betting steps. Coordinate multiple projects while stay organized.

Connect with quality suppliers who are serious about your project.

Analytics and Decision Support
Built-in evaluation tool to help you make an informed decision.

Run multiple projects with fewer resources.

Always Clear Conversation
Questions? Our In-Project messenger keeps all project communication clear and on topic. No more mixing different project conversations.

Never lose track of your information. Easily pull up all your past and present projects and review proposals, notes, and communications.

Perfect for all procurement environments. Power RFP is highly flexible, accessible, and will add immediate performance to all your procurement and sourcing intiatives.
Power RFP puts control and organization in the hands of procurement professionals.
Unlike other Procurement software tools, Power RFP is design and built with SME in mind. Power RFP ensures all the best practices are applied during your sourcing and procurement projects.
(No payment info required)
It's Free
(No payment info required)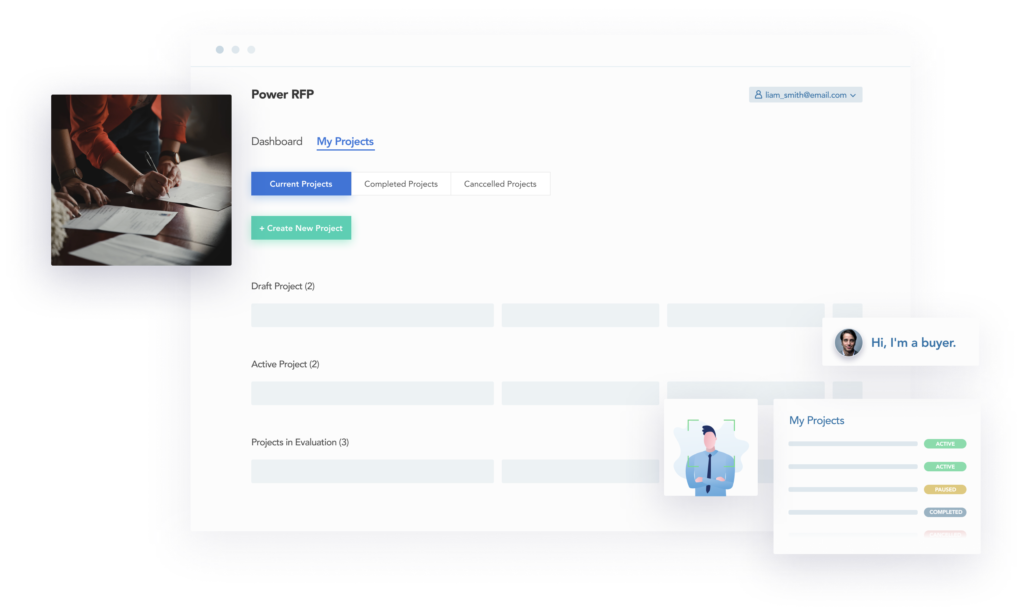 Power RFP will guide you on quick and easy project requirement gathering and ensure all the best practices are followed.

Invite Suppliers to Submit Proposals
Centrally coordinate all your competitive bidding requests. Easily manage all project information, revisions, and communications.

Centrally receive all supplier quotes and proposals in one place.

Built-in evaluation and decision support tool to guide you on making an informed decision. Take your project to a successful completion.

Only the hottest business leads for you.
Power RFP let you take full control of every opportunity.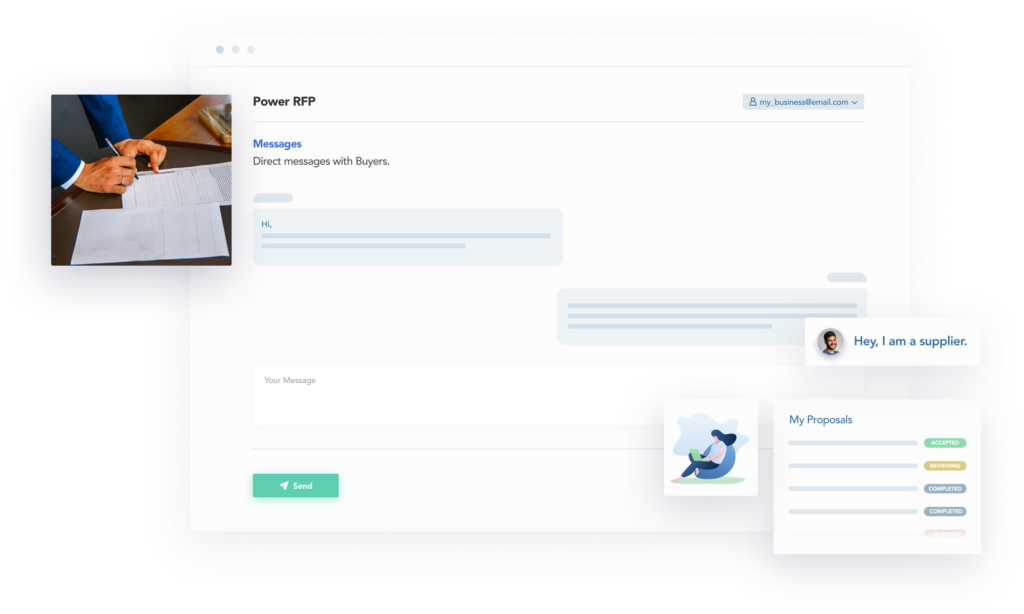 Receive Latest Business Opportunity
Receive invited to hottest and most relevant opportunities to your business.

See full details of each opportunity, choose only the opportunities you want to go after.

Submit Your Best Proposal
Easily submit your best proposal through Power RFP. System will guide you to ensure all key responses are covered.

Own All Your Relationships
Maintain direct relationships with all your customers.
Power RFP is committed to support the supply chain community. Our Professional level project management tool is free for all buyers to conduct all procurement and sourcing projects.
No limitations to number of projects!

Procurement project management functions

Centrally coordinate competitive bidding requests

Centrally collect all quotes and proposals

Built-in evaluation and decision support feature


Vendor Management (coming soon)

Supplier qualification and match to your project (coming soon)

Receive sales opportunities (no signup required)

Free to view any opportunity

Choose only the opportunity you want

Submit your proposal directly to Buyer using Power RFP

Business Profile (coming soon)

Project market place (coming soon)

Receive active alerts on matching leads to your business
5 Free submissions per month*
$10 $5 pay per submission thereafter.
*On invited projects
Ask about annual membership package for unlimited proposal submissions.
Designed for a cross function and collaborative environment. Our Manager package takes team work to the next level.

Project collaboration capabilities - invite contributors and watchers

Collaborated Proposal Scorecard

End to end project tracking

Contract management capabilities



Advanced business profile with product and service catalogue

Collaboration capabilities

Invite contributors and watchers


Unlimited proposal submissions

Keep your business ahead of the curve with Power RFP updates.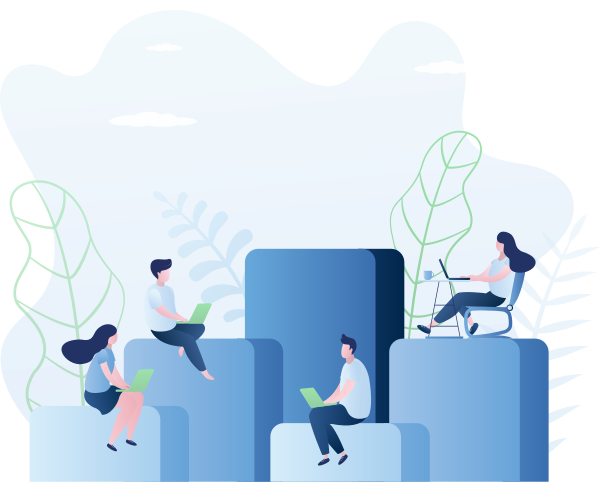 Get in touch with Power RFP
Contact us for a demo or to learn more about the platform.
Security and Privacy © 2021 Power RFP / All rights reserved